Moms really have a tough life. Instead of supportive and kind words, people often have unneeded criticism, rude comments and bad advice on how a mom should raise her own child. This happens to all moms, but it may be even worse for celebrities because they have opened up their lives to the public, and some people feel as though this is an invitation to be critical of everything they do.
Kate Beckinsale was not even allowed to enjoy a night out with her friends, without critics questioning why she wasn't home with her teenage daughter — luckily for Beckinsale, it's no longer the 18th century and she doesn't have to spend her nights at home playing the pianoforte. And Blac Chyna's decision not to get dressed up in heels and a full face of makeup when she was nine months pregnant was apparently a problem for some. There are many celebrity moms whose parenting has been criticized when it shouldn't have been because, at the end of the day, they are only trying to raise their children as best they can. And there comes a time when they reach a breaking point and decide to fire back at the negative comments, in the most brilliant and feisty ways. Below are 20 of those times.
20. 

MILA KUNIS IS NOT GOING TO LISTEN TO PEOPLE LECTURING HER ABOUT BREASTFEEDING

Mila Kunis and Ashton Kutcher are celebrity parents who try to shield their children from the public, but they have still received criticism for their parenting, in particular, when Kunis breastfed their daughter, Wyatt, in public.
Breastfeeding in public is something that creates a divide within society, and while some are for it, others are definitely against it, which Kunis found out. She responded to the backlash in an interview with Vanity Fair, saying, "Why did I do it in public? Because I had to feed my child. She's hungry. I need to feed her whether it's out of a bottle or out of my boob no matter where I was." She went on to explain that she didn't care what people thought.
19. 

CHRISSY TEIGEN IS FIESTY, AND THAT'S WHY WE LOVE HER (ALSO, SHE'S ALLOWED TO GO ON DATES)

Raising children is no easy task, and some may say it's even more complicated when doing it in the public eye because celebrity parents' every move can be photographed, and then questioned. Chrissy Teigen found this out the hard way, after she and her husband, John Legend, decided to go on a date night, not long after she gave birth to their first child, Luna.
The couple was photographed on their date, and when Teigen went on social media the next morning she found that everyone was speaking about it, and criticizing her decision to leave her daughter. Teigen decided to put her critics in their place with her response, highlighting how annoyed people were simply because she went to dinner. She then went on to respond to some of the comments in a snarky way.
18. 

PINK LAUGHS OFF THE PEOPLE WHO CRITICIZE HER BECAUSE SHE HAS BETTER THINGS TO DO

Pink is one of the most relatable celebrity moms out there because she doesn't try to glamourize motherhood, and she is very hands-on when it comes to raising her children. But being a mom of two children, who are both under the seven, can be difficult, and she has definitely had to learn all about multi-tasking. And sometimes, people have been unimpressed with the way she handles things.
There was a time when she posted a photo of herself cooking with her children, which was deemed to be unsafe. According to Romper, she was also criticized for drinking decaf coffee while pregnant with her son. But if you think she cares about the criticism, well you'd be wrong. Instead, her reaction was to laugh off the comments because she has better things to do, telling followers, "this was really a good laugh."
17. 

TESS HOLLIDAY RECEIVED BACKLASH WHEN SHE SHARED SHE WAS PREGNANT, BUT IT'S A GOOD THING SHE SPOKE HER MIND

Imagine finding out you're pregnant with your second child, and in your excitement, you not only share it with your family and friends but also on social media. Celebrities have a big audience, and many of their pregnancy announcements are met with great enthusiasm from their fans. But model Tess Holliday didn't get the reaction to her pregnancy announcement that she should have, and instead, she was criticized for being unhealthy and putting her baby at risk.
She responded with fury, writing on social media (via InStyle) about how it's "not cool" that people are commenting on her body. Her speech put people in their place, and she finished with a powerful statement: "As women, we know what's best and that's our business…No one else's."
16. 

KIM KARDASHIAN IS QUICK TO DEFEND HERSELF WHEN PEOPLE DON'T LIKE WHAT SHE DOES

Some may say that Kim Kardashian West has opened her life up to the public and therefore should expect the comments she gets. The Kardashian-Jenner clan are no strangers to criticism, and they have developed a thick skin to it, but when it comes to her children and the way she raises them, this is a topic that Kim is not going to just let slide. No one has the right to criticize how she is as a mom, and this is a message she wanted to make clear in a response on her website (via E! News).
"In all seriousness, I never understand why people get so bothered by what other people choose to do with their lives," she stated, adding that she lives a clean, healthy life and has never committed a crime, yet when she decided to post photos that she sees as body positive, she gets backlash for being a bad role model to her daughter. She wanted it to end and was tired of defending her accomplishments.
15. 

KRISTIN CAVALLARI WOULD APPRECIATE IF PEOPLE DID NOT TELL HER WHAT TO FEED HER KIDS

Kristin Cavallari had a lovely day in the sun with her kids on the Fourth of July in 2016, and so she decided to share a photo of them. But instead of people remarking on the sweet family photo, they chose to focus on the size of Cavallari's children and gave her a lecture on how she should feed them more.
Needless to say, these comments hurt Cavallari, but they also angered her, and so she gave her critics a piece of her mind. She blocked the people making the comments and made a response that was dripping with sarcasm. "Yep. I starve my children," she wrote, The Hollywood Gossip reports, adding, "Just blocked the most people I've ever blocked in my entire life. Happy 4th hahaha."
14. 

KRISTEN BELL SAYS IT'S TIME MOMS UNITE INSTEAD OF DIVIDING OVER SILLY THINGS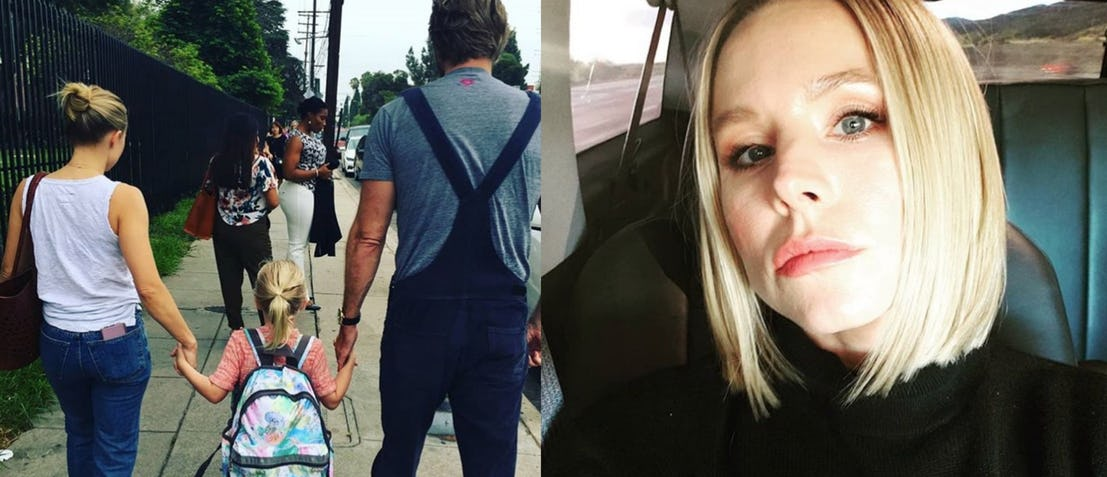 Kristen Bell and Dax Shepard don't really share photos of their kids online, and they have campaigned for the paparazzi to stop taking photos of their children (who didn't choose to live their lives in the public eye the way their parents did). But despite trying to keep much of her family life away from the public, that doesn't mean Bell has avoided criticism.
In 2016, she discussed the pressure on moms in an interview with Today, and made it clear she thinks it's time moms start supporting each other. She added, "I'm not a good mom; I'm not a bad mom. I'm the mom I am and I try very hard, and when I [don't succeed], that's OK."
13. 

HILARY DUFF IS SO TIRED OF PEOPLE PICKING APART WHAT SHE HAS DONE — SO SHE CLAPS BACK

After splitting from her husband Mike Comrie, Hilary Duff was raising her son, Luca, as a solo mom (she is now with Matthew Koma and they share a daughter named Banks Violet). She rose to the challenge and has been a very present mother, even taking her son on school runs. Although, when she shared a photo of her school run outfit, she was criticized for it, and when she posted a photo of herself showing affection with her son, she also came under fire.
And then when she was photographed with her son crying after a haircut, she made headlines, Today reports. Duff doesn't appreciate the unwanted remarks, and in an interview with Good Housekeeping, she said, "I don't make comments on other people's photos that I don't know. So, it's so funny to me that people will go out of their way to say something mean or judge-y… Why are you here then? If you want someplace where they agree with all of your opinions, go there."
12. 

COCO ROCHA SAYS NO THANKS TO THE 'UNWANTED ADVICE' PEOPLE OFFER HER

Coco Rocha probably figured that if she posted a photo of her daughter on social media, people would remark on how adorable she is, she didn't expect them to share their opinions on her decision to bottle feed, and was annoyed when she found she was getting a lot of "unwanted advice" on her post.
She informed people of why she decided to stop breastfeeding, although she was adamant it was no one's business and concluded with a warning to all critics: "Anyone who has a negative comment to make on the way I raise my baby will be blocked. This is not a democracy, everyone doesn't get a say."
11. 

KATE BECKINSALE REJOICES IT'S NO LONGER THE 18TH CENTURY AND SHE CAN GO OUT

Kate Beckinsale has just one child, a daughter, Lily, who she shares with her ex, Michael Sheen. And you'd think that when your daughter is a teenager, it would be fine to spend a night out with friends, but Beckinsale is apparently not allowed to have a life of her own, and people questioned why she wasn't home, spending time with her daughter.
She decided to respond to these comments in the most hilarious and sarcastic way. According to StyleCaster, she wrote this message to her critics: "What's amazing is it is no longer the 18th century so now that my one child is grown I don't have to stay home (while she's out with her own friends) playing the pianoforte, getting consumption, or trying to secure her a marriage…"
10. 

COCO AUSTIN GETS REALLY FRUSTRATED WITH SOME OF THE COMMENTS ABOUT HER PARENTING, AND SHE CLAPS BACK

Coco Austin loves being a mom, and she is raising a daughter, Chanel Nicole, with her husband, Ice T.
Austin shares photos of her daughter online, and her social media accounts are a reflection of just how much her life has changed since she became a mama. But her willingness to share her life with the public has also opened her up to a wave of criticism, and according to Redbook, when Austin's parenting skills became a topic of discussion, she decided to respond.
"Some comments really frustrate me at times," she wrote. She went on to point out how people assume she doesn't do anything, but she doesn't have nannies or babysitters and has been "100 percent hands-on" with her daughter. And for those wondering, she also cleans her own house and does her laundry!
9. 

NEVER, EVER SAY ANYTHING BAD ABOUT THE WAY HALLE BERRY PARENTS

Some celebrities open their lives up to the public and they share photos of their children with the world. Halle Berry is not one of those parents, and she prefers to keep her children's lives private, which is her decision, and it's a strange thing to receive backlash for. But she did, when according to Yahoo, critics questioned why she didn't post photos of Nahla and Maceo.
"I try to find creative ways to incorporate them into my feed because they are the biggest part of my life, but I also work very hard to keep their identities as private as I can considering they are only children," Berry wrote.
8. 

JENNI "JWOWW" FARLEY IS ALL ABOUT SAFETY, SO CRITICS SHOULDN'T ASSUME OTHERWISE

Jenni "JWoww" Farley does not appreciate the comments about her parenting, especially because her children are such an important part of her life. She made headlines in 2016, when she decided to share a photo of her husband, Roger Mathews, holding their 2-month-old son in a pool. He seems perfectly fine and is not fully submerged in the water, but Farley's parenting came under question because of her decision to let Greyson be in a pool. Critics also took issue with whether she had applied sunscreen.
Farley was annoyed with the response to her sweet photo and spoke her mind on social media. "Not even sure why I am even doing this but I feel like schooling people on my previous post," she wrote. "First off, my son is two months and in a salt water pool up to his belly… Probably for a total of 3 minutes." She also informed the commenters that her son was wearing sunscreen.
7. 

EVEN BEFORE BLAC CHYNA BECAME A MOM TO DREAM, SHE FOUND HERSELF FACING BACKLASH

Blac Chyna has always been somewhat of a controversial figure, even before her highly publicized relationship with Rob Kardashian. The former couple shares a daughter, Dream Kardashian, and even before she was born, Chyna found herself receiving criticism for not getting dressed up when she was nine months pregnant. Really, can she not catch a break?!
According to StyleCaster, Chyna decided she would put an end to the "negative comments" by speaking her mind and informing people she was just about to have a baby. "Exactly what do you expect to see?!" she questioned, adding, "If I walked out in makeup and heels every day to be beautiful to your means I would be miserable and unhappy, which are two vibes I refuse to transfer to my little one."
6. 

JANA KRAMER DOESN'T HAVE TO MAKE HER OWN BABY FOOD FOR HER DAUGHTER TO BE NOURISHED

When it comes to feeding children, and what is best to feed them, a lot of people want to share their opinions. If it's not the debate about bottle feeding and breastfeeding, then there's a discussion that has to be had about store-bought food or making your own, and Jana Kramer found herself caught in the crossfire when she shared a photo of the food she was feeding her 4-month-old daughter, Jolie Rae Caussin.
Today notes that Kramer received many comments on her post, questioning why she was not making her own baby food. Instead of ignoring the backlash, Kramer decided she would use this as a teaching moment, and took to social media to write this message: "Unless you are Jolie's doctor, her father, or her mom, do not tell me how to raise my child, or how to feed her."
5. 

KHLOÉ KARDASHIAN'S LONG NAILS DON'T MAKE HER A BAD MOM, AND SHE'LL TELL YOU WHY

Khloé Kardashian and her famous sisters are all impeccably groomed. You'll find it hard to get your hands on a photo where they don't have full faces of makeup, the latest designer gear, and their nails done. But the nails that Khloé likes are really long, and they've got people questioning how she is able to care for her daughter, True Thompson.
The Examiner notes that when she posted a photo of her manicure, there were thousands of comments about how she can't parent, and Khloé clearly noticed this. In response, she decided to write a message about how "annoying" it was when people comment on her nails. "Trust me, I manage just fine," she wrote. "The same way I take care of myself, I take care of my baby. There are more serious things to discuss…"
4. 

CHRISTINA MILIAN CLAPPED BACK OVER CRITICISM OF HER DAUGHTER'S HAIR — AND SHE HAD A GREAT RESPONSE

In 2015, Christina Milian allowed her daughter, Violet, to express her individuality and personality with her braids. She was aged 5 at the time, and she looked super cute (as you can see in the image), but rather than comment on how sweet Milian's daughter is, or how she is a super mom for taking her to meet Zendaya — which the mom explained really made her daughter's day — people decided that Violet's hair was far too mature for her age.
Milian must have noticed the comment section filled with remarks about her daughter's hair, and so she adjusted the caption of her post to address this. "For those of you more concerned with Violet's hair (understandably cause you just don't know) her hair isn't in the twists, it's another method used where they are tied into her cornrows," she explained. "The hair isn't heavy…Violet likes it and it's not damaging…"
3. 

CRITICS WERE WONDERING WHERE KOURTNEY KARDASHIAN'S KIDS WERE WHEN SHE WAS ON VACATION, AND SHE HAD A GREAT ANSWER

The Kardashian-Jenner clan have certainly received their share of criticism, and almost everything they do or post causes debate and a divide among their followers. But it is Kourtney Kardashian's holiday photos and the comments that were made on them that caused her to react.
According to Bustle, Kardashian had shared a photo of herself on a yacht in Europe, and someone asked: "where are your kids." Rather than let the person get away with their comment, Kourt responded (and the sarcasm is not lost on us). She wrote, "my son was taking the photo, and the other two were sitting at a table across from me. Thank you so much for your concern."
2. 

MARIPILY RIVERA LET HER HATERS HAVE IT AFTER THEY COMMENTED ON A PHOTO OF HER HUGGING HER 16-YEAR-OLD

It seems that not everyone agrees on what the right amount of affection to show a child is, and some celebrities have been criticized for this very reason. When Victoria Beckham posted a photo of herself kissing her daughter, Harper, some people had negative things to say, and when Maripily Rivera shared a snap of herself embracing her teenage son, Joe, she received a lot of unwanted comments.
According to MamásLatinas, Rivera responded to those who didn't appreciate her showing affection to her son, calling them "stupid mediocre people" for thinking that the photo was anything but a celebration of maternal love.
1. 

SNOOKI SAID SHE'D TURN OFF THE COMMENT SECTION OF HER PHOTOS IF PEOPLE DIDN'T MIND THEIR OWN BUSINESS

Nicole "Snooki" Polizzi will soon be a mom to a third child but she is already a mama to a son, Lorenzo LaValle, and daughter, Giovanna LaValle. Her journey into motherhood has definitely not been without unkind remarks, and E! News notes that in 2017, Snooki shared a photo of herself and her daughter and commented on how proud of her she is.
She also used the caption as a chance to speak her mind: "(Instead of not posting my kids for the people who respect and appreciate their photos, I will turn off the comments section." She explained she was tired of being judged while trying to raise her kids, and that she was doing a great job most of the time!