If your dad loves to build things with his own hand or if he is obsessed with owning new tools, consider getting these kits for father's day!
1.
A Porter Cable 4-in-1 tool kit featuring a two-speed drill, circular saw, compact reciprocating saw, and LED work light so your dad will have everything he needs to build you a thank-you present.

2.
A bucket liner so your dad and his favorite bucket can have matching tool belts. Cuuute!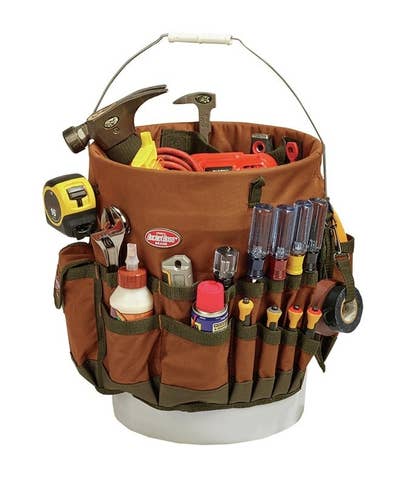 3.
A 16-piece wrench set for the dad who is always saying "you can never have too many wrenches."

4.
A tool rack with eight hooks so your dad can store everything from his rake to his mop in one place.

5.
A pair of Bluetooth-connected hearing protectors designed to be worn with hats, so he can listen to his tunes while the headset autocorrects throughout the day to keep the sound at safe volume levels.

6.
A Squidbright alkaline LED work light with grippy legs and a magnetic back so you can finally retire from the job of Official Flashlight Holder when your dad needs to look under the hood of his car.

7.
A DIY hardware kit with everything your father needs to install sliding barn doors in the house. Can I get a "yeehaw"?

8.
A Stanley cross line laser so your dad can easily hang all your artwork from school. Love to support a supportive dad!

9.
A mobile workbench that your dad will look at with the same excitement that you have for a bar cart when it rolls into the room.

10.
A pair of Bluetooth-compatible headphones so your dad can rock out to some classic rock while working in the garage.

11.
A three-piece finishing combo kit from NuMax to help finish projects, repair furniture, do moldings, and tackle new crafts.

12.
A 6-gallon pancake compressor your dad will ~flip out~ over when he sees how well it quietly powers his tools.

13.
A Wagner sprayer capable of spitting out 8 gallons of paint an hour. Everything is about to get a fresh coat of paint!

14.
A huge 320-piece tool set to end all tool sets. Armed with this behemoth, your DIY dad will be unstoppable.

15.
A rolling tool bar for fixing on the go. Your father can now fly across the street with this in tow the second his neighbor calls with a new project in mind.

16.
Goop multipurpose hand cleaner can clean up even the oiliest of paws. It also works on rugs, clothing, wood, leather, vinyl, and more.

17.
And a drip pan to stop the oil stains before they even happen.

18.
A carpenter tool belt with plenty of room for nails, pens, tools, and more.

19.
A Black + Decker 75-piece kit to give the dad just starting out on his DIY journey.

20.
A retro-looking mini storage chest that comes in a lot of bright colors to add some cheer to your dad's work station.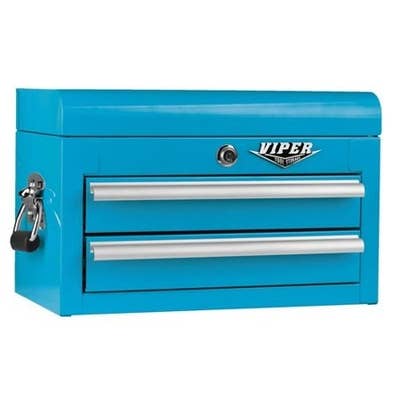 21.
A circular saw with an adjustable cutting depth and 53 degree bevel. Just think of the furniture your dad could build with this baby.

22.
A Walabot DIY wall scanner to help your father find studs, pipes, electrical wires, and more. He may seem like a superhero, but he doesn't have X-ray vision.

23.
A handheld detail sander, because sometimes sanding by hand with a sheet of paper just won't cut it.

24.
A portable project center so your pop can get to work no matter when or where the inspiration hits.

25.
And if you really want to win the Best Kid award, a 7-foot-by-7-foot storage shed for dad's huge collection of tools.