Keeping your space clean is important but we don't always have the time. Here are 27 products from Walmart that will help keep your space tidy in the simplest way.
1.
An over-the-door basket to easily access kitchen tools in your cabinets or to store away items in your bathroom.

2.
A 24-pocket over-the-door organizer you can use for storing shoes, accessories, baby clothes, art supplies, or any odds and ends your heart desires.

3.
A hutch desk with a minimal design and space to neatly house all your office accessories.

4.
A three-tier spice shelf that'll have all your spices in order and easy to reach.

5.
A clear makeup organizer with two drawers and multiple compartments can unclutter your vanity or bathroom counter instantly.

6.
A wall-mounted wine rack for a chic way to display your favorite bottles of wine.

7.
A water bottle holder so you can prevent your water bottles from tumbling out of your refrigerator door.

8.
A two-tier corner shelf to easily access dishes in your kitchen cabinets or store them nicely on your countertop.

9.
An bathroom storage unit that'll be perfect for storing beauty products and other items over your toilet, especially if you have limited bathroom counter or cabinet space.

10.
A mudroom bench can provide you with a super-cute spot to hold shoes and sit your bags.

11.
A wrap organizer to bring a little order back to your collection of aluminum foil and plastic wrap.

12.
A spacious trunk perfect for tucking away vinyl records, shoes, or blankets.

13.
A set of adjustable drawer dividers you can use to separate kitchen utensils, flatware, or other items in your drawers.

14.
A simple five-shelf bookcase to maximize your storage space and add a chic, minimalist accent to any room in your home.

15.
An in-drawer bamboo knife organizer which'll protect your blades from getting damaged and you from accidentally cutting yourself while reaching into your knife drawer.

16.
A totally affordable tiered TV stand with shelves that'll hold your media devices, game systems, Wi-Fi router, and more.

17.
A desktop dry-erase board — with a pull-out pen tray — that you can use for keeping notes and making sure you always have a pen close by.

18.
An easily totable hair-dryer and flat-iron holder to get your hair tools in one designated place.

19.
A set of drawers with a wicker design for a stackable storage solution that'll hold a range of items.

20.
An adjustable, non-slip lid holder so you can quickly find the covers to all your pots while cooking up your next tasty dish.

21.
A twin-sized metal daybed that features a built-in trundle, providing you with extra sleeping space for guests without having to battle a noisy, space-hogging air mattress.

22.
A three-bag rolling hamper so you can get your dirty clothes off the floor and into their proper place.

23.
A three-shelf bookshelf to hold all those books and magazines taking up space in your rooms.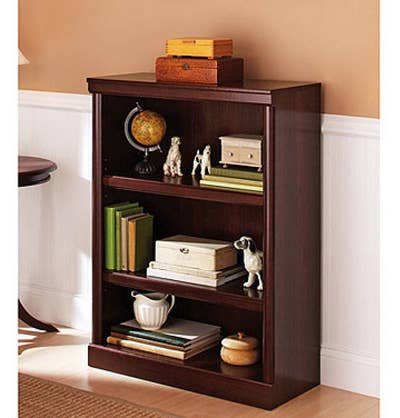 24.
A three-tier slide-out rack for utilizing the space between appliances or other furniture in your kitchen.

25.
And a battery storage organizer — which includes a battery power tester — that'll let you quickly locate whatever batteries you need from your storage drawer.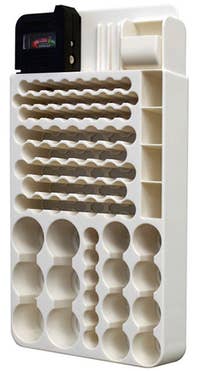 26.
A toothbrush holder so you can finally clear some room on your counter.

27.
A storage shower curtain with nine mesh pockets to clear up the army of bottles sitting on the edge of your tub.