It's so hard to get the right skincare for your skin but we have prepared a solution that will help you. Walmart has various brands on stock such as Peter Thomas Roth, Dr Jart+, Shiseido, and MORE!
Here we have collected 27luxuriouss skincare products that'll help you to find what's best for your skin.
1.
J.One Jelly Pack upgrades your morning routine by multitasking like no other. Its satisfying jelly-like formula acts as a hydrating treatment, tightening and smoothing mask, *and* makeup primer — all after softly melting into your skin. Plus! Hyaluronic acid moisturizes and firms your complexion so you look ✨bright and refreshed✨ alllll day long.

2.
Peter Thomas Roth Water Drench Hyaluronic Cloud Facial Cream accomplishes quite the magic trick. It transforms ~atmospheric vapor~ into a fresh water formula to provide nourishing hydration that lasts up to 72 hours (!!!). The cherry on top: its hyaluronic acid helps you kiss dull and uneven skin tones goodbye. Talk about cloud nine.

3.
Klairs Supple Preparation Facial Toner makes toning possible for even those with the most sensitive skin. It's super lightweight to absorb into your skin quickly, before rebalancing your pH levels and improving overall brightness. So long, redness. Hello, pampering.

4.
CosRX Low pH Good Morning Gel Facial Cleanser starts your mornings off with some *perks* by combining tea tree oil and natural BHA to shrink pores and improve your complexion's evenness. Basically it tells harsher cleansers to clear out in the name of gentle treatment and fast results.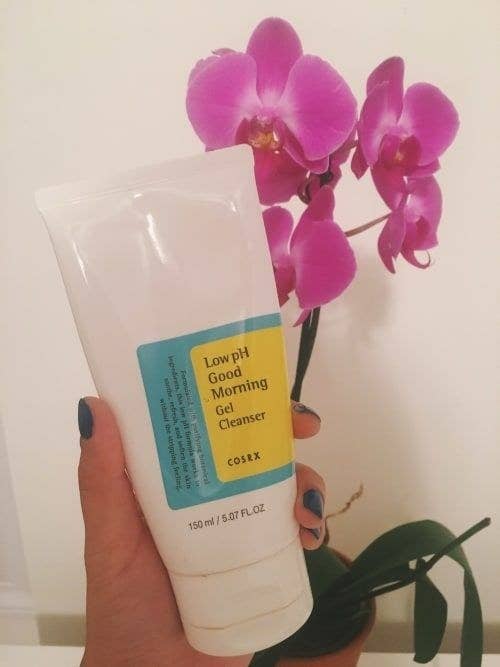 5.
And! CosRX Low pH First Cleansing Milk Gel ends the day smoothly. Its gel-cream formula of softening papaya fruit extract, inflammation-calming witch hazel extract, and healing and moisturizing allantoin gently removes makeup, dirt, and excess oil. Meaning your face will be comforted after a long day, and your head will be hitting your pillow STAT.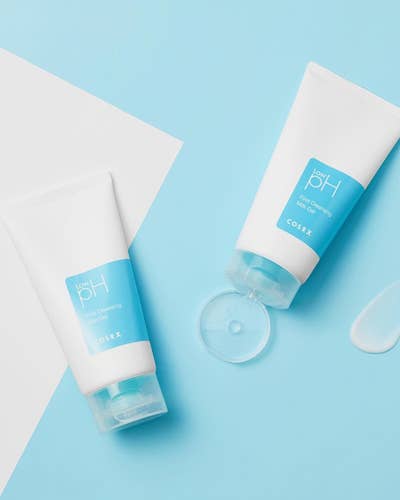 6.
Derma E Vitamin C Concentrated Serum gives your skin a major boost in just a few drops. It combines hyaluronic acid and vitamin C to brighten and increase collagen (aka your face will be smoother and fuller). AND! Aloe and vitamin E deeply hydrate so your overall complexion feels g-o-o-d.

7.
EltaMD SPF 46 Moisturizing Facial Sunscreen has probably already been recommended to you by your derm, and for good reason. Not only does it protect you without clogging pores, but its niacin and hyaluronic acid actually promote healthier-looking skin. AND it can easily be worn under makeup. Finally remembering sunscreen feels rewarding.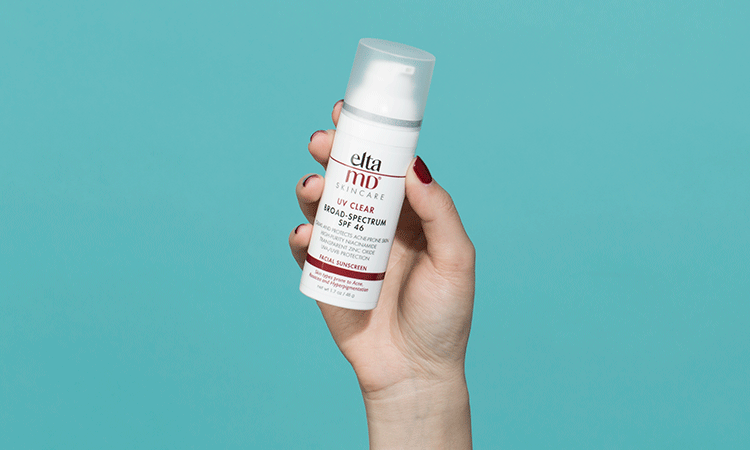 8.
Shiseido Waso Fresh Jelly Lotion transforms from gel to liquid to lock in your skin's natural moisture and promote dewy, plump skin. Its white jelly mushroom extract provides *rich* moisture, minimizes pores, and reduces shine. Name a more rewarding all-in-one routine. I'll wait.

9.
Heimish All Clean Facial Cleansing Balm boasts a ~three texture~ procedure to get you squeaky clean. It goes from a solid balm to silky oil cleanser as you lather, then ends as a milky gel when you rinse. Plus, its lightweight blend of citrus herb oils effortlessly removes makeup — making this the ultimate ahhhmazing ending to your day.

10.
Tonymoly I'm Real Face Mask Sheet Pack triumphs as a cult-favorite among mask lovers, thanks to the wide variety included, their soothing effects, and surprising affordability. Each (all-natural) formula targets a different goal, from brightening to clearing breakouts so no matter what you're *covered*. Fuzzy robe not included, but strongly encouraged.

11.
Dr. Jart+ Cicapair Tiger Grass Camo Drops relieve redness and camouflage breakouts très vite, courtesy of their green hue, centella asiatica, and chlorophyll. Translation: you'll get to feel luxe by incorporating a serum into your routine *and* see results in just a squeeze.

12.
May Coop Raw Sauce Moisturizing Essence brings dull, tired skin back to LIFE by providing much-needed moisture and nutrients deep within your skin. It's all due to a surprising main ingredient — maple tree sap! It helps retain high levels of hydration so your complexion can really ~flourish~.

13.
Mizon All In One Snail Repair Cream brings all the brightening benefits of ~snail mucin~ to one easy-to-use facial cream. If you're often too lazy to use a serum, but would LOVE to fade acne scars, even out your skin tone, and just bring out an overall *glow*, then this bb is for you.

14.
Found Volcanic Ash Pore Exfoliator leaves enlarged pores in the dust in one easy (yet invigorating) step. It naturally detoxifies and exfoliates with the help of volcanic ash, rosehip berry, and lactic acid to bring out a smoother, brighter complexion. Basically breakouts and dullness will be washed down the drain.

15.
Obagi Nu-Derm Gentle Facial Cleanser does it all for people in search of clearer complexions: a complex of oat amino acids and alfalfa extract detoxifies breakouts, controls excess oil, and evens skin tone, while aloe vera soothes inflammation and cools redness. Let us say thanks that this miraculously doesn't require a prescription.

16.
Mario Badescu Facial Spray combines aloe, herbs, and rosewater for a luxe mid-day pick-me-up through the power of ~misting~. It instantly hydrates, soothes tightened skin, and leaves you feeling a heck of a lot more relaxed than before you spritzed. Prepare to momentarily leave your cubicle.

17.
Laneige Berry Lip Sleeping Mask makes your pucker feel all-around *dreamy* when it pampers your pout with vitamin C and a sweet blend of raspberry, strawberry, cranberry, and blueberry extracts. It locks in moisture and cancels flakiness so you wake up with soft, supple lips. Beauty sleep, INDEED.

18.
Skinfood Black Sugar Mask scrubs away lovely blackheads as fast as it takes to wash your face. Its mineral-rich Brazilian black sugar granules exfoliate dead skin cells and restores moisture, all in just 10-15 minutes. Did I mention it smells AMAZING? Relaxing has never been so efficient.

19.
Missha Time Revolution Night Repair Ampoule works overtime while you catch up on your zzz's to make sure you wake up to a supple, dewy complexion. It's made of ~fermented yeast~ to improve skin elasticity, hydrate, even your skin tone, and illuminate. This just became your best reason to get eight hours of sleep.

20.
Too Cool For School Egg Mellow Cream *cooks* up a truly rewarding skincare experience. Its super elastic (hello, bouncy) formula firms skin, intensely nourishes with egg yolk extract, and boosts collagen levels, meaning your complexion will be smoother and brighter. Essentially, your routine just became entertaining AND effective.

21.
Make P:rem In-Shower Face Pack lets you mask *while* you lather, because sometimes we need to fit in self care while still on-the-go. Apply a thin layer on at the beginning of your shower to let it brighten, soften, and smooth your skin — all before it's time to get right back out.

22.
Philosophy Purity Made Simple Facial Cleanser swoops in to save sensitive skin in need of some (gentle) TLC. Its multi-tasking formula uses meadowfoam seed oil and *twelve* essential oils (including rosewood, sandalwood, and sage) to hydrate, soothe, and brighten your complexion. If you don't feel totally refreshed after this, you probably just need to go back to bed.

23.
La Roche Posay Micellar Solution ensures you never go to sleep with anything but a fresh face again. It wipes away dirt, oil, and makeup, *and* cleanses and tones your skin. Your complexion will be happy, and you'll end the day on a much nicer note than sticky raccoon eyes.

24.
RoC Retinol Correxion Eye Cream moisturizes your under-eyes to help reduce fine lines, dark circles, and puffiness by enlisting a powerful ingredient: retinol. We may not all get a full night's sleep, but with this we'll be able to at least *look* like we know what well-rested feels like.

25.
Pyunkang Yul Essence Toner uses milk vetch root extract to re-energize tired skin, making this the most rewarding last step you could ask for. It not only intensely hydrates, but gives your complexion a dewy, elastic finish that you previously believed required a complicated routine. NO. LONGER.

26.
Dermalogica Daily Microfoliant Facial Cleanser activates its unique rice-based powder formula to exfoliate dead skin cells and reveal a smoother and more luminous complexion. Its microfoliant technique may be super effective, but is still gentle enough to use every day! Aka, you've got nothing but ~bright~ days ahead.

27.
Skinceuticals Gentle Cleanser Cream soothes irritated and sensitive skin so you don't have to give up a luxe routine in the name of caution. Its combo of essential oils and glycolic acid soothes as you lather. And it removes excess oil and debris, leaving you with nothing but fresh, comfortable skin.