Home is probably the place that you spend the most time in a day. Which means that investing in your house is never a waste if you make the right choice. Here are 31 pieces of furniture that you can get on Amazon to make your house look stylish and cozy at the same time!
1.
An upholstered platform bed to take your bed game to ~new heights~ because nobody, and I mean nobody, should sleep with just a mattress on the ground.

2.
And a mattress with more than 18,000 five-star reviews that rave about how great this mattress is for its price.

3.
A media stand with four compartments so you can artfully display all those coffee table books you've been collecting over the years.

4.
A sleek oak coffee table that will look great in your living room without breaking your budget.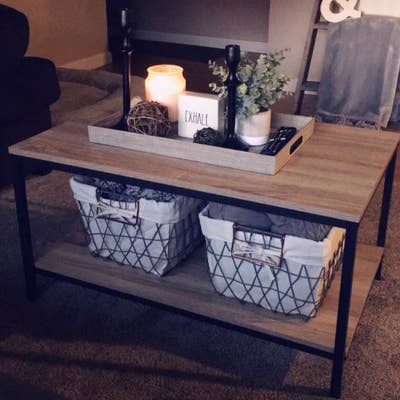 5.
A narrow console table to spruce up your entryway…even if your entryway is more just a door into another room – now at least you'll have a place to drop your keys and take off your shoes before tracking dirt all the way into the house.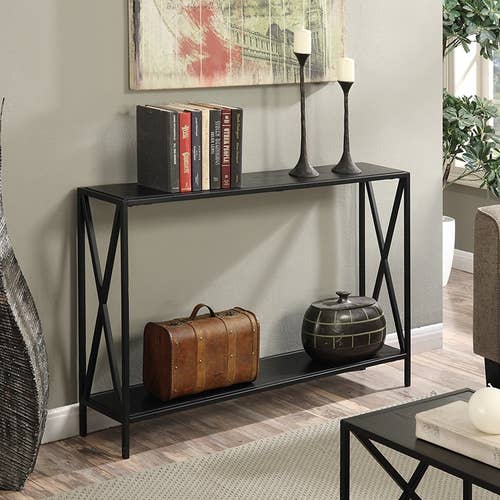 6.
A three-drawer vanity to store all your makeup and styling products in and use to get ready in the morning. This is especially great if your bathroom is so busy in the morning that it should start taking reservations.

7.
A pair of cushioned barstools to switch up your decor a bit, but still give people a comfy place to sit.

8.
A sectional that's great for when you have a smaller space, but don't want to compromise style or comfort.

9.
A utility cart because we're all (sadly) not lucky enough to live in a kitchen designed by Nancy Meyers with an expansive island.

10.
A beautiful standing mirror that basically requires you to take more #OOTD photos.

11.
A storage side table with three wicker storage baskets to give your home a polished look, even if all three baskets are stuffed to the brim with odds and ends.

12.
A end table people will probably think you got from some fancy-schmancy boutique with a much higher price tag.

13.
A headboard to give your bed a slightly upgraded look without having to redo the whole room.

14.
A floor lamp with a mid-century modern vibe that will actually add a ton of light to the room.

15.
A mirror you can put above a dresser or table and make any room look bigger as light reflects off of it.

16.
A five-tier bookshelf to organize all the books you have rather than just continuing to let them pile up as you convince yourself you totally need to buy more every time you end up at a bookstore.

17.
A hall tree with seven hooks to hang coats, hats, and even umbrellas after you get stuck in a downpour you were not prepared for.

18.
A dining table to give your home that rustic feel you've been trying to achieve for years.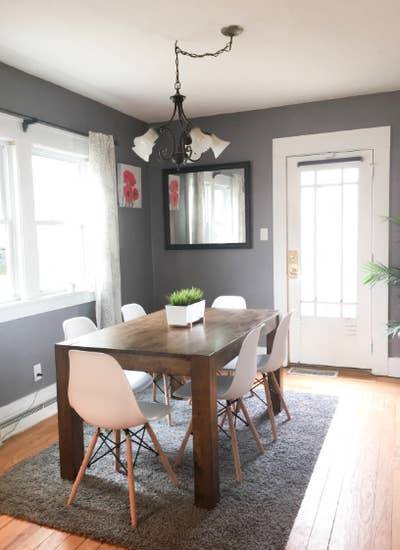 19.
A set of two upholstered dining chairs everyone will be super impressed with, especially when the holidays roll around and nobody is stuck sitting on that folding chair that's as hard as a rock.

20.
A desk with a hidden bookshelf in the back to help keep things from piling up too much on top of the desk.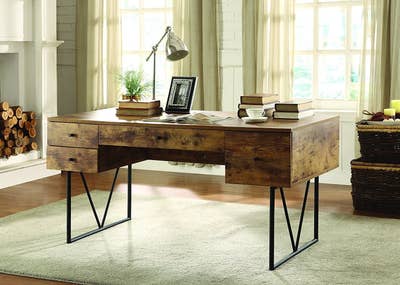 21.
A canopy bed frame to make you feel like you're sleeping in a bed made for royalty.

22.
A storage ottoman that works as a foot rest, coffee table, or even as seating when you have friends over to binge the new season of Big Little Lies.

23.
A chic futon your guest won't even realize turns into their bed when they come over to stay with you.

24.
A faux marble coffee table that'll pull your whole living room together and make you feel like maybe, just maybe, it can pull your life together, too.

25.
A sideboard because I'm convinced you can never had too much storage space in your home.

26.
A mirror nightstand that'll truly ~reflect~ your great home decor taste.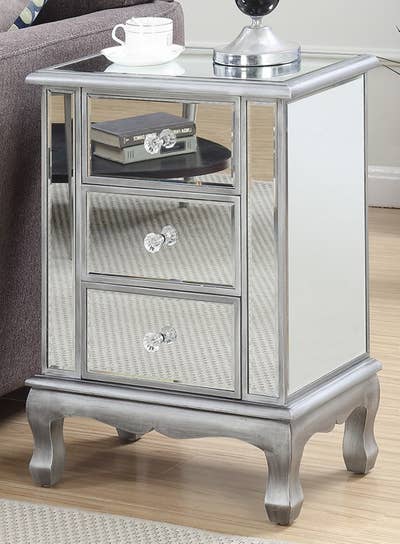 27.
A bamboo utility shelf so you can take your plant obsession to another ~level~.

28.
A macrame hanging chair that would make the CUTEST little reading nook. I can just see you sitting in it on a rainy Saturday – devouring a book and living your best life.

29.
A faux leather bench you can use in your entry way or at the end of your bed as a place to sit and put your shoes on.

30.
A floor lamp that'll ~illuminate~ your great taste in finding beautiful home decor at an amazing price.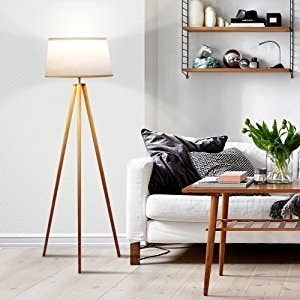 31.
And a bar cart to hold all the essentials you need (so you can be ready to throw a killer dinner party at a moment's notice).